Design of a System-on-Chip Architecture Backbone for European Defence Applications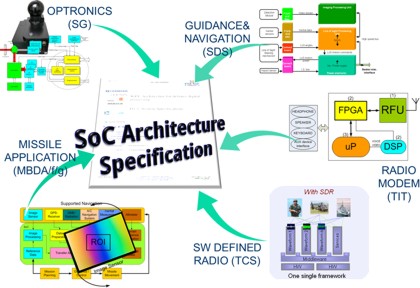 First activity of the WP1 was to collect system requirements for the various targeted product. This has been done covering the following applications:
Optronic
Software Defined Radio
Missile
Modem
Navigation and guidance
This analysis has been proceeded examining the architecture dedicated for each application. Huge activities have been performed to identify the commonalities and the required resources in order to define an ideal architecture able to host all the applications.
On one hand, WP1 delivered to WP4 the input necessary for the development of the HW building blocks, on the other hand it defined the test vehicle architecture for the WP5.
Finally, WP1 identified the processing part candidate to an evaluation within Corsair SoC chip and started to develop the modules based on existing algorithm and basic building blocks.
Main functions were: filtering, interpolation, decimation, motion analysis and specific modulation.
For more information about this Work Package please contact the Project Leader.